From Henry Mitchell's apprenticeship
at the Dorset County Chronicle in 1922
through to his son Philip officially starting Jamaica Press in 1961, development in print has been at a lightening rate. Phil's son Paul now manages the business and the dedicated team has recently been joined by the fourth generation, Paul's daughter, Kathryn.
Through that time, the only thing that hasn't changed is the approach to customer relationships – use every effort to provide the best solution at the best price, always!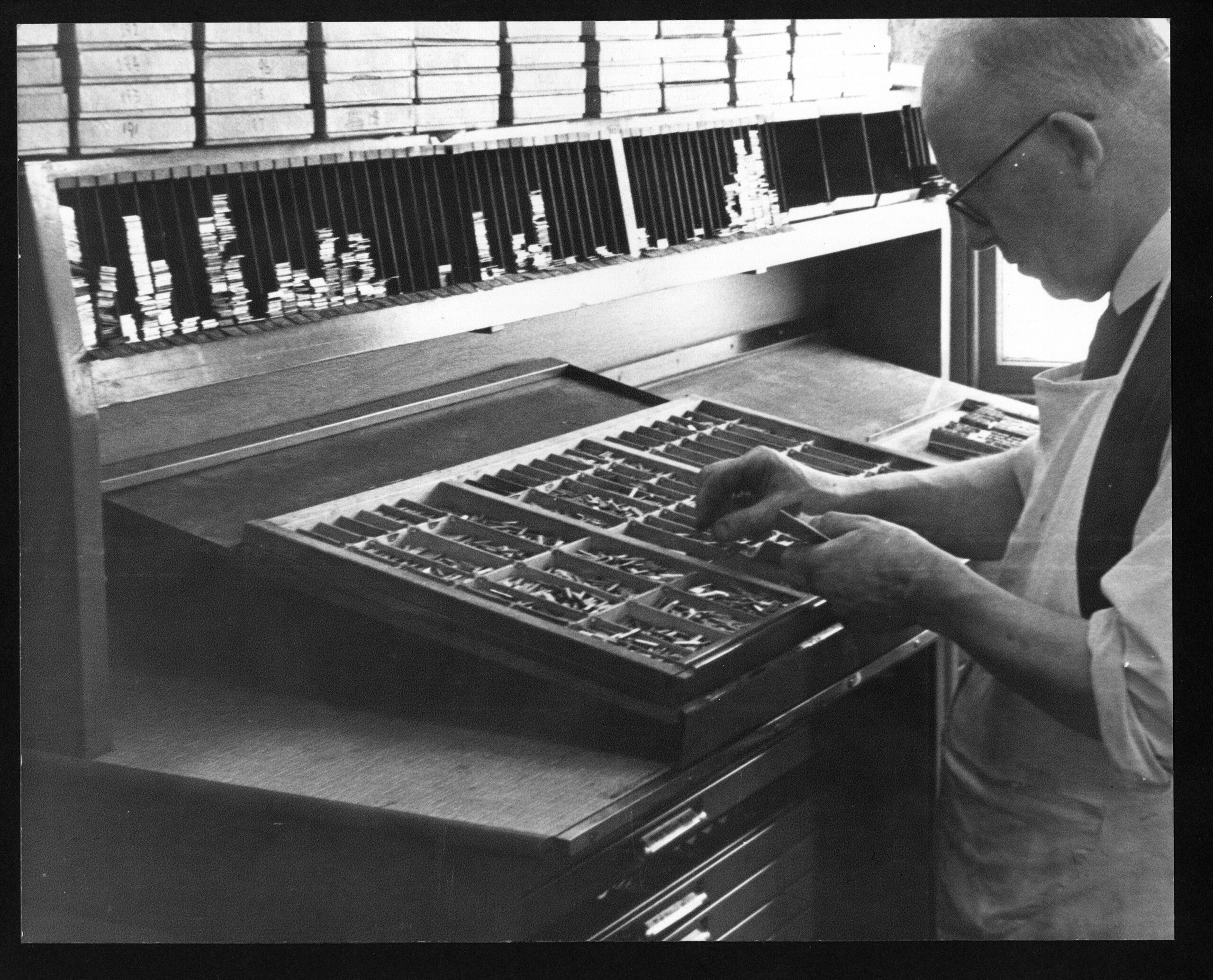 Decades of Progress
in 1922 Henry Mitchell was an apprentice compositor at the Dorset County Chronicle, starting a lifetime involvement in print which led him to Bideford and later to Hartland where initially he took over an existing printing business which had produced the historic Hartland Chronicle. Subsequently, as sub-postmaster of Hartland, he ran a very busy general store with country deliveries which often demanded 15-hour working days but for relaxation he would quietly retreat to the attic where he kept a small hand press.
Development of the store led to acquiring the recently-closed Jamaica Café owned by an officer on HMS Jamaica. Soon after, a business associate offered Henry a treadle platen, one step up from his table-top hand press; as it would not fit in the attic, the press was deposited in the 'Jamaica' premises and Jamaica Press went into production on 15th November 1961.
Early Days
Hartland was always a busy and largely self-sufficient community so orders rolled in for stationery for local businesses together with tickets and posters for the many organisations in the village. It was not long before the laborious treadle-powered machine had to be replaced with a fully automatic printing machine and while most of the work was set by hand with individual letterpress type, mechanically-set type was utilised for larger jobs and what started as a hobby created even more pressure on time for this businessman.
Sound Training
throughout this time, Henry's son Phil had shown a practical interest in print and having considered other career options decided that this was his life-choice. In fact, Phil and his sister Mary were named as partners in the fledgling business with their parents from day one. Phil was offered a place on a two-year course in the Printing School attached to Exeter College of Art and here he gained a grounding in every aspect of printing from estimating and costing, through manual and mechanical typesetting to letterpress and silk screen printing – binding processes included making hand-bound ledgers. One memorable project put his skills into practise – a booklet about the Guide Dogs for the Blind training kennels, based in the city. Having researched and taken photographs, with two other students Phil wrote a booklet which they then designed, printed and bound themselves.
Nationwide and beyond
the next decade saw growth, drawing business locally and as far afield as London and the home counties. One publisher contracted Jamaica Press to print book covers for several of his annual publications: Phil often drove hundreds of miles to meet deadlines and ensure the covers arrived with the binders in top condition. As Christian work always held an interest for Henry and Phil, over the years the customer list has included The Bible Society and missionary organisations. A unique publication was the Gospel of Mark printed for sub-Saharan Tuaregs. The absence of a typeface for Shifinagh Script was quite a challenge: this was met with the usual Jamaica Press resourcefulness and, to withstand heavy usage by these nomadic people in demanding conditions, the edition was printed and bound in durable synthetic materials.
Life and 'Times'
while many people have found employment in the history of Jamaica Press, thirty-three years will take some beating! Tony Manley came to Hartland with valuable printing experience, seeking a quiet village life and he worked through the transition from letterpress printing to lithographic printing with the associated advances in typesetting and artwork. His fascination with local life and history soon led him to consider editing a local journal and this consuming voluntary pastime took Tony well into retirement. With the sponsorship and printing skills of Jamaica Press, the impressive 'Hartland Times' was published every two months, often with colour content, for over thirty years. Tony's dedication to the paper and the community generally, earned him recognition with presentation of an MBE in 2005. Jamaica Press has printed other local publications, recently including the 'Hartland Post' – a successor to the Hartland Times'.
Bursting at the seams
for many years, redevelopment of the original premises in Hartland enabled steady development as technology changed and the workforce grew; an additional store in the village helped, too, along with resourceful use of the floor-space – nearly everything except the printing machines had to be on wheels!
Ultimately, growth and efficiency became restricted and a new premises was discovered a few miles inland. The new site needed interior development and decoration in a very short space of time and the team – by then numbering nine – put in superlative efforts, burning midnight oil to make it all happen. The machinery move from Hartland was a textbook operation – although it closed Fore Street down for two part-days! – and when installed in its new home, there was still generous space for further growth.
From November 2009, Jamaica Press exchanged one misty Devon location for another. Mambury Moor Estate is off the Bideford-Bradworthy road, between Powlers Piece and Stibb Cross. Nearer the centre of the extensive area covered by daily van deliveries, it also provides Phil and Paul easier access to visit customers – and, of course, there's always a welcome cuppa there for visitors!
Space to grow
with nearly four times the floorspace of the original premises, this site has generous, free parking with excellent offloading facilities for palleted paper and other deliveries. On the spacious ground floor, materials travel on wheels from store to guillotine and presses, keeping manual handling to a minimum. Colour-correct lighting allows press operators to maintain high standards of print quality. The whole operation from design to packaging is on one level, including a roomy, colour-balanced studio. There is now capacity for environmentally friendly computer-to-plate technology which enhances quality and speeds the process.
Office-based staff, too, at last have more than enough room to swing a cat but their main exercise is using the stairs to the first-floor office area: here, their knowledge and experience is backed by powerful computer systems to respond quickly and reliably to customers' needs.
Phil's daughter Lynne has managed the accounts of Jamaica Press for more than twenty years and it was in those early days that she took on responsibility for another aspect of service for local customers – the supply of office products, now efficiently run by Janet. So many print customers appreciate being able to order these necessities from the same source as their printing, that this diversity has also grown steadily. Competition is strong with international companies jostling for position in the market but the care and attention given by this small business keeps the delivery van busy throughout North Devon and North Cornwall. Help with planning office layouts is an integral part of the service for customers arranging a new office format, together with supply and assembly of furniture.
New applications
printing ink must flow in the blood of the Mitchell family, for Phil's son Paul always wanted to work in print. Over a two-year period, he studied at Exeter School of Printing and gained litho printing experience in a city printers before returning to Hartland in 1987 to learn origination skills. More than thirty years on, he not only has a sound knowledge of all aspects of computerised design, origination and modern printing techniques but is always ready to embrace new technology. Paul has introduced short-run digital and large-format ink jet printing to Jamaica Press for the benefit of his customers and enjoys exploring the diverse applications these permit. With full colour litho printing in one pass, quality output competes with the best!
A great team
while keeping abreast of technology is essential, the enthusiastic commitment of every member of the team is the key to good service at Jamaica Press. We're here to help progress your business or practice!
From June, 2022, our website has been further developed with a web to print feature supported by funding provided by the Devon County Council Devon Elevation Fund Community Renewal Fund.